B2Lead is your marketing partner. We extend the reach of your lead generation campaigns by delivering your content through email, publishing it online and to social channels.
B2lead partners with some of the most popular B2B content sites to syndicate our content for a broader reach. B2B topics such as technology, security, big data, sales and marketing, finance, HR, and more can be found on our sites and partner sites.
Syndicated B2B content can start the dialogue with early-stage prospects who might be considering your solution. Publishing your content online can answer the questions potential customers ask before they reach out. Our sites have become a resource for information that addresses B2B issues and challenges.
We partner with companies such as Madison Logic, Integrate (Premium Media Partner), NetLine and many others to support our clients' needs.
Domestic – We partner with companies that have broad technology categories as well as categories such as Human Resources, Finance, and Manufacturing.
International – We partner with companies that have a global reach and international audience.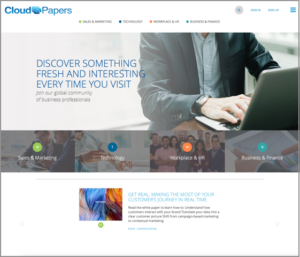 B2Lead Content Syndication Websites
B2BinfoDaily.com and CloudPapers.com offer enhanced user experience through the LeadStory Platform.
Readers don't have to download content or install an app to see your content from the viewer.
They can save their favorite content to the library that can be viewed from any device.
Social Media and Sharing
Visitors can share your content via social media and email directly from the LeadStory Viewer.
LinkedIn
Twitter
Facebook
Email
More