Activity Reporting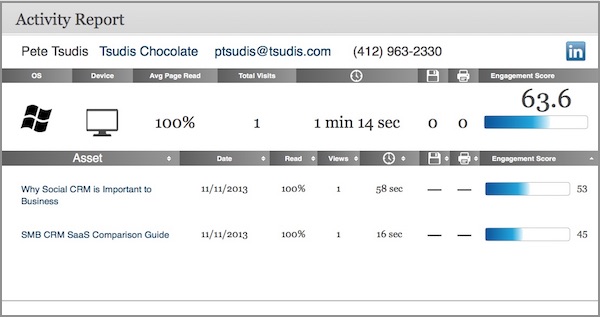 Our Activity Report gives you insight into each lead's activity with your content and assigns an engagement score. Data from LeadStory gives you insight into how your lead interacted with every piece of content that was shared within the campaign.
Activity tracking leads to more understanding of where readers are along the buyer's journey and identifies potential advocates within your target accounts. Leverage this information as part of your account-based marketing efforts. You can reach out more quickly to the most engaged vs. adding them to a drip campaign.
Verified contact information
Engagement Score
Total visits per document
Average time spent reading
Device
Document saved to device
Document printed
Operating System
Campaign Engagement Reporting
Our Campaign Engagement Report is a summation of campaign activity across all opens. Your white papers, videos, web links and pricing sheets are ranked by performance within the campaign.
Monitor campaign performance as you track campaigns in real-time
Engagement score per asset within campaigns
Understand reader distribution by geographic area.
Percentage of leads generated per asset
Link to Activity Report for each lead
Average pages read
Readers viewing multiple
Documents saved to devices
Documents printed
Devices used